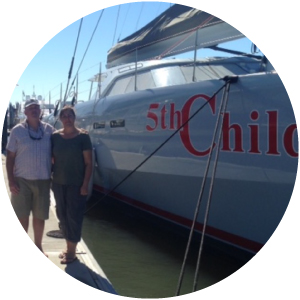 YACHT DELIVERIES
We, Tim, and Sandy Armstrong, are Beachspace Marine. Tim has a background in Dive charter and Commercial Dive work vessels in Western Australia. He is a Master 24m NC and a Marine Engine Driver Grade 2 with experience in the challenging West Coast marine environment.
We have been living aboard our yacht and sailing full time, both cruising and delivering yachts, since 2012. In this time we have cruised the Pacific Islands, and have sailed over 50,000nm in deliveries in over 30 different types of vessels.
We have completed numerous Pacific Islands to Australia  passages, Ocean crossings, Perth to Gold Coast deliveries across the Great Australian Bight, our favourite being in winter on an FP Salina 48 (2725nm), managed the refit of Adagio, a 22m luxury expedition trawler, and sailed a Siminis 60' performance catamaran through two un-forecast winter gales in Bass Strait. We have delivered vessels from all states in Australia to and from Gold Coast/ Sunshine Coast. We are the delivery crew of choice for Queensland Multihull Yacht Brokers and specialize in providing training support for new yacht owners. We guarantee fast responsive delivery with support and regulator updates along the way.
Client feedback on our services has been incredibly positive. The accuracy of our quotes, timeliness of the delivery, and the condition of a clients vessel upon arrival all reflect well on the services we can provide to you.
Our experience and commitment to our clients mean you only get the best for your yacht from Beachspace Marine. Check our what we have delivered most recently.
DIVING SERVICES
Tim started diving when he was serving with the United Nations in East Timor as a Police officer. He then deployed to PNG, where he obtained a Dive Master qualification. After PNG he spent the next 4 years in the Solomon Islands expedition level deep diving on WWII wrecks. He has Revo CCR to Trimix Level III certification and has completed hundreds of dives in 60m to 100m range.
He completed Commercial Dive Training with TUCF in Fremantle, Western Australia in late 2009.
His experience includes;
• Commercial Dive operations in Fremantle Harbour and the Swan River on construction projects and ship below waterline maintenance.
• Commenced Beachspace Diving, specialising in agricultural nil visibility dam diving for pump and outflow repairs.
• Contracted to the Department of Transport for recovery of offshore wave monitoring buoys, and battery replacement of tidal bottom sensors.
• Contracted to Department of Environment for fresh water river management, clearing, and Marron poaching monitoring.
• Small coastal water-front residential construction projects.
• Developed a client base on the Sunshine Coast in Recreational Vessel Management.
• Contracted to Broken Bay Diving Services in Pittwater, NSW,
• Is the diver of choice for Mooloolaba Yacht Brokers and Multihull Solutions.
It is this depth of experience, both for Government and local clients, that ensures you get the very best in customer service and advice when I dive for you.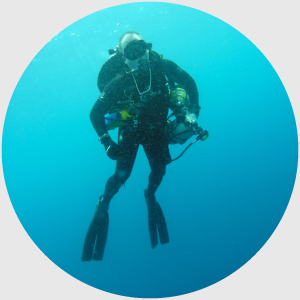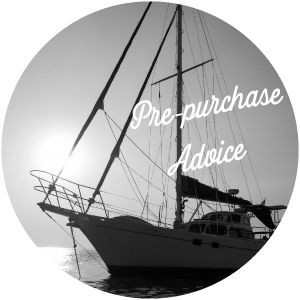 CONSULTATION SERVICES
Beachspace Marine is regularly asked to conduct information sessions on cruising and yacht purchase/management. We have conducted multiple sessions at the Gold Coast International Marine Expo on topics such as 'Remote area Cruising' and 'Buying a Yacht to Suit your Plans' regularly attended by audiences of up to 90 participants. Most recently our 23 March 2019 presentation on 'Buying a Catamaran' for the Multihull Solutions Open Day at the Boatworks Shipyard was attended by 50 participants. Previous presentations were followed-up by webinars and email questions/enquiries from as far as China, Canada, USA, Singapore, Brazil, and Germany. These follow up webinars are planned for these most recent presentations.
We realise that yachties and prospective purchasers just wanted to ask questions of someone that does not have a vested interest in their purchase decision, no yacht brokers, no service providers, and from someone that is actually out there doing it!
We have purchased both new and a used boats. We have refitted our own boat and managed the refit of 75' expedition trawler. We offer this service so those that want it can have an honest, unbiased source of information guided by questions you ask of us.
For us, it's all about you!